Opening of the VII International Conference "EARLY CHILDHOOD CARE AND EDUCATION" (ECCE 2018)
19.05.2018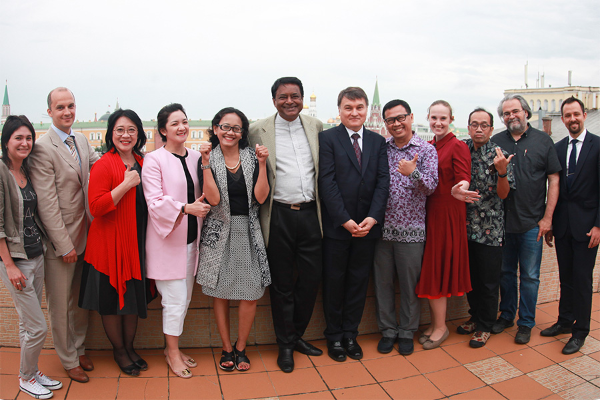 May 17, 2018 the VII International Conference "Early Childhood Care and Education" (ECCE 2018) Opening ceremony was held at Lomonosov Moscow State University. ECCE is the largest Russian event dedicated to early childhood psychology, nurturing, content and organization of pre-school education.
Within a few days of the Conference, scientists, psychologists, educators and managers from around the world were discussing the problems of preschool education in Russia and other countries, sharing experiences, exchanging views and making new acquaintances in the friendly atmosphere of the Conference.
In a welcoming address to the guests the rector of Lomonosov Moscow State University Viktor Sadovnichy noted a record number of participants and mentioned that the year 2018 was the beginning of the "Decade of Childhood" announced by the President of the Russian Federation Vladimir Putin. "The theme of early childhood education is interdisciplinary in its' nature. Now, together with the Russian Psychological Society, we are creating an Interdisciplinary Childhood Centre. This organization will be dealing with such global issues as the digitalization impact on children's development, digital pedagogy and many others. "
In his welcome speech President of the Russian Psychological Society, Vice President of the Russian Academy of Education Professor Yuri Zinchenko said: "The Conference Early Childhood Care and Education" is a unique project for Russia, which has been implemented for 8 years. We do not know other scientific and educational platforms, where more than 1,000 experts: researchers and practitioners from more than 40 countries would meet each year. The conference has more than 30 sectional and plenary sessions, which are simultaneously translated into English and Russian.
This year the conference's focus was on digitalization of pre-school education and research in the field of childhood. We see that, on one hand, digital technologies significantly expand the learning opportunities, on the other hand- modern children spend lesser time in role play, the importance of which was shown by the professor of the Moscow University, Lev Vygotsky, and more time - in completely new symbolic worlds that are transferred by the hands of adults into the digital space. "
The conference was also welcomed by the representatives of the Ministry of Education and Science of the Russian Federation and of the Ministry of Health of the Russian Federation.
Special attention was paid to the plenary session by the President of the International Psychological Union under UNESCO Sathasivian Cooper's reports as well as to the report by the President of the Indonesian Psychological Society Seger Handoyo.
Chairman of the International Committee of the Conference Nikolay Veraksa noted the importance of receiving this year's General Patronage of UNESCO and thanked the representatives of the boards of the World Organization for Early Childhood Education under the auspices of UNESCO, the European Early Childhood Education Research Association, the European Association for Research in Education for their presence at the conference.
All news

International cooperation
Russia will host 16th European Congress of Psychology!