"Psychology in Russia: State of the Art" journal is now indexed in the PubMed Central!
25.01.2023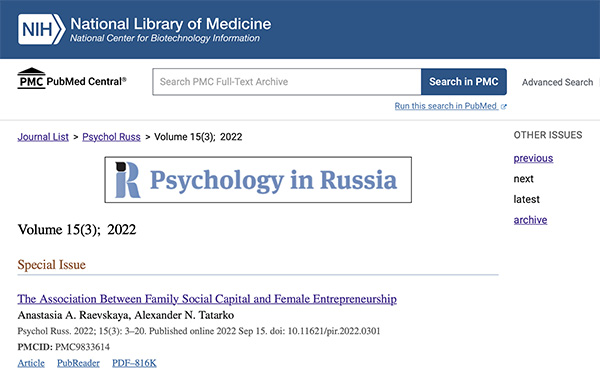 The journal "Psychology in Russia: State of the Art" has been working for five years to enter the prestigious international scientific database PubMed Central.
This is the first psychological journal in Russia, which was accepted into the PMC, where at the moment only a few of the Russian scientific peer-reviewed journals are represented.
PubMed Central® (PMC) is a free full-text archive of biomedical and life sciences journal literature at the U.S. National Institutes of Health's National Library of Medicine (NIH/NLM). Since its inception in 2000, PMC has grown to an archive of articles from thousands of journals.
Established in 2008, the Russian Psychological Society's Journal «Psychology in Russia: State of the Art» publishes original research on all aspects of psychology. The journal builds upon theoretical foundations laid by the works of Vygotsky, Luria and other Russian scientists whose works contributed to shaping the psychological science worldwide, and welcomes international submissions which make major contributions across the range of psychology.
All news